Searching for activities on New Years Eve in Destin Florida? discuss where to commence the new year is surrounding us. Extravagant gathering? Home on the lounge chair? Festivity around early afternoon with the family? With such a large number of decisions, we've point by point a portion of Destin's greatest festivals to enable you to choose where you'll spend your New Years Eve.
New Year's Eve Street Party at HarborWalk Village
Appreciate live music and two firecracker appears at this yearly occasion on the Destin harbor. The eleventh Annual Ball Drop over the harbor is the ideal method to celebrate the new year. Dance and dine your way through the venues at the harbor to celebrate!
Seaside Countdown
The Seaside Countdown is an extraordinary festival to finish off the year. This occasion highlights live music from 6 p.m. to 12:30 a.m. At this gathering, you can observe New Year's Eve in Destin FL by watching talented entertainers and taking in spectacular fireworks at 12:00 am!
SunQuest New Year's Eve Cruise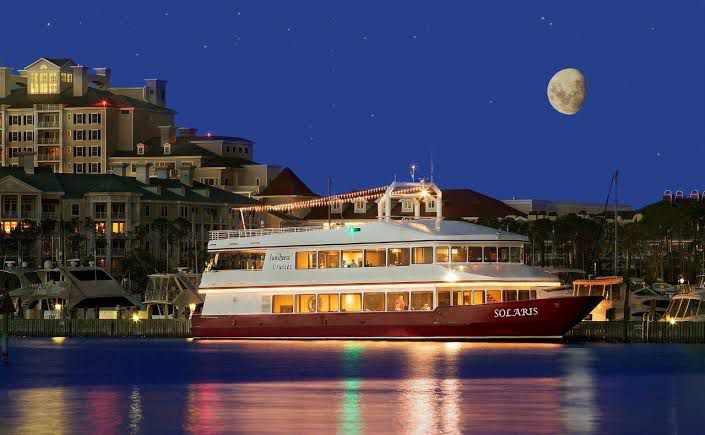 SunQuest Cruises New Year's Fireworks Dinner Cruise
Date & Time: Tuesday, December 31; 8 p.m. – 12:30 a.m.
Location: Baytowne Marina
Celebrate New Year's on the Emerald Coast! New Year's Eve SunQuest Cruises' SOLARIS yacht will allow you to dine while on the move and experience fireworks in an extraordinary way!
While the SOLARIS travels the nearby waters of Sandestin, the five-course culinary experience starts with Seared Kurobuta Pork Belly, trailed by a liberal Roasted Butternut Squash soup. The accompanying course is a Solaris Wild Berry Salad with Citrus Vinaigrette.
Entrée options include Chilean Sea Bass, Grass-Fed Boneless Short Ribs, Porcini-Dusted Bistro Filet and Fontina Pork Chops.
Celebrate with live amusement, a champagne toast and take home gifts
Private Celebration
Another low-key way to observe New Year's Eve in Destin FL is to have a privacy in one of our beachfront accomodations in Destin. At the stroke of midnight, you can watch the ball drop on TV and make a private champagne toast with your cherished one. Then head out to your balcony and observe the glittering sars and listen to the lapping waves of the Ocean.
PLAN YOUR PERFECT NEW YEAR'S GETAWAY WITH
DESTINIQUE TRAVEL ADVISORS
Call for Booking Phone: 1-888-235-5603
or Fill out Our Vacation Inquiry Form Below:
https://www.destinique.com/contact